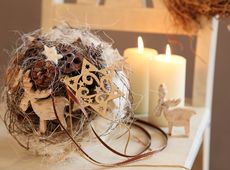 04.12.2016 -08.12.2016
11.12.2016 -23.12.2016
26.03.2017 -07.04.2017

2

nights

from€ 434,-

 price per person
Penken double room
Each day in the magical winter realm of Zillertal means pure holiday joy. Be enchanted!
Feel the power of the mountains. Breathe in the winter air. Just be. And all that at an attractive price. Enjoy added value holidays – and the charm of that unique STOCK feeling.
2 NIGHTS with:
guaranteed upgrade to a category 1 or 2 suite
Earlier arrival and later departure available, book 2 nights – enjoy 3 days
Save the 10% short-stay surcharge.
Upgrade example:
Book the Penken double room, from € 434.00 (p.p./stay) with an upgrade to a category 1 suite
Book a category 1 suite from € 518.00 (p.p/stay) with an upgrade to a category 2 suite
Enjoy the late departure and gain an extra day of holiday!
Arrival – your room will be available from 3 pm, but you are welcome to arrive earlier. You are welcome to come for breakfast (for an extra fee of 20 € per person) and we can provide you with a wellness basket (with a bath robe, towels and slippers) - so that you can enjoy all the hotel facilities (spa area, beauty, lunch buffet from 1 pm, etc.).
Departure – let your short break draw to a gentle close, and enjoy the hotel facilities and the lunch buffet - at no extra cost! Please vacate your room by 11 am - you can keep your bath robes, sippers and towels and hand them to reception before you leave.
Always included: Stock's 
Luxury Wellness Board
 and all services from the
Stock Feeling Worlds
(Room category upgrades depend on availability)
Possible arrival date:
Monday, Tuesday, Wednesday, Sunday
The services included in the package are not exchangeable and there is no cash alternative!Prices given apply to an optimal occupancy of 2 adults in a double room.Treatments in our beauty department can be booked daily between 8:30 a.m. and 2 p.m.Extension of stay also possible.
Send us an enquiry or call our booking holine: +43 (0) 5285 6775-410.