STOCK'S SUMMER HIGHLIGHTS
Panorama garden & 12 bodies of water
Services included at the Stock & Worlds of STOCK feelings
Laid-back 5-star luxury
Culinary excellence incl. vegan option
NEW: BOX Fit Club, BMW Cabrio 428i or BMW i3 E-Car to hire, plus the latest mountain bikes & e-bikes, and much more.
STOCK Active Programme
STOCK Family Programme
Welcome to the STOCK resort – your family 5-star hotel in the Tyrol, Austria
Discover a world full of enjoyment, relaxation & generous warmth.
It is as unique as it is full of variety; it inspires and moves you – that STOCK feeling. Discover too a world that has been completely created for spa lovers & sport enthusiasts, families & lovers, gourmets & foodies as well as individualists with high expectations. Day after day we will surprise and delight you in our family-run 5-star hotel in the Tyrol with charm and generosity on all levels. Celebrating Tyrolean savoir faire in an easygoing and detail-loving way, allowing a fresh take on tradition and the opportunity to stamp new values, all this distinguishes the unique character of our house – discover too the worlds of relaxation and adventure at the STOCK resort.
We look forward to meeting you – at any time & with all our hearts! 
Warmest regards, the STOCK Family & the committed STOCK Team
5-Star Service – enlivened with warm cordiality
A smile, a loving word, a conversation that remains in your memory. Sympathetic open personalities with heart make our hotel in the Tyrol into a place to meet and of genuine hospitality. Passionately run and always re-created with creativity, the  STOCK resort in Finkenberg comes across as open to the world and yet, at one and the same time, of its locality and knowing how to make that come alive in architecture, service, cuisine, sport and spa of the most exclusive niveau for the whole family. Wonderfully arranged materials, fine details and special touches distinguish the unmistakeable STOCK style and define Rooms & Suites, which make you want to stay and come back.
ROMANTIC TREATMENT PACKAGE
Sorry ...
... but this offer is currently not bookable.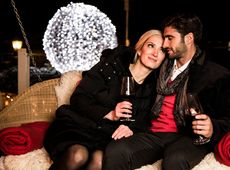 07.01.2018 -11.02.2018
18.02.2018 -08.04.2018

from

 price per person
STOCK feeling in the air ... love and pleasure.
Together as a couple, dive wholly in to the STOCK feeling, probably one of the most seductive feelings in the Alps.
Pamper yourselves, celebrate the luxuriousness of love and with us enjoy letting the sparks of passion fly in an ambience of genuine passion. Feel love. Feel pleasure.
3 NIGHTS WITH:
Cosy dinner in our restaurant at a wonderfully dressed table
Romantic bath 'Rendezvous of togetherness' – incl. beneficial & relaxing back massage (25 mins/adult)
1 red rose on an evening of your choice, served with a glass of MOUNT STOCK Prosecco & hand-made chocolates
Gift voucher to the value of € 30.00, redeemable in the STOCK DIAMOND SPA for pampering treatments & massages
Always included:
Stock's luxury board
 and all services in the STOCK Feeling worlds
(Gift voucher redeemable between 8.30 a.m. – 2.00 p.m. in the STOCK DIAMOND SPA.  Cannot be changed or exchanged for cash! Not bookable between 22.12.2017-07.01.2018/11.02.-18.02.2018)
The services included in the package are not exchangeable and there is no cash alternative!Prices given apply to an optimal occupancy of 2 adults in a double room.Treatments in our beauty department can be booked daily between 8:30 a.m. and 2 p.m.Extension of stay also possible.
Send us an enquiry or call our booking holine: +43 (0) 5285 6775-410.