Sorry ...
... but this offer is currently not bookable.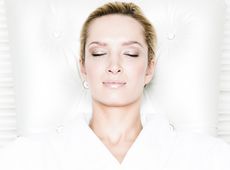 Winter time in the STOCK resort – crystal-clear mountain air & sparkling STOCK DIAMOND SPA moments which leave you wanting for nothing!
3 nights with a choice of 3 treatments - massage, beauty programme or a bath treatment.
The STOCK SPA Realms are as unique as any snow crystal in the dreamy winter wonderland of what is probably one of the most beautiful valleys in the Alps. Dive in and enjoy our new STOCK signature treatments, superb massages and exclusive baths in the stylish ambience spanning 5000 m² of deluxe relaxation and energy.

3 nights with a choice of 3 treatments - massage, beauty programme or a bath treatment.
Choose one massage (25 mins each)
Back massage      
Well-being head-neck massage       
Foot reflex zone massage
Choose one beauty programme
STOCK DIAMOND facial treatment 'Pure impact'
Manicure and pedicure without polish
Choose a bath
STOCK DIAMOND mountain crystal bath
STOCK DIAMOND base bath
Tyrolean mineral oil bath
Romantic 'Kaiserbad' for 2 people (when the package is booked by 2 people)
Always included:
Stock's luxury board
 and all services in the 
STOCK Feeling worlds
The prices listed in the overview are "from" prices. The room price is calculated according to the season. The valid price for the corresponding season can be found in the package offer after entering your desired dates.
(Treatments cannot be changed or redeemed in cash! Not available to book between 08.-11.12.2016 / 23.12.2016-08.01.2017/25.02.-05.03.2017.)
Possible arrival date:
Monday, Tuesday, Sunday
The services included in the package are not exchangeable and there is no cash alternative!Prices given apply to an optimal occupancy of 2 adults in a double room.Treatments in our beauty department can be booked daily between 8:30 a.m. and 2 p.m.Extension of stay also possible.
Send us an enquiry or call our booking holine: +43 (0) 5285 6775-410.