SUN, SKI AND SPA IN MARCH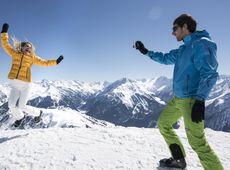 15.03.2020 - 20.03.2020
22.03.2020 - 27.03.2020
29.03.2020 - 03.04.2020

5

nights

from € 1.395,-

 price per person
Penken 'Comfort' double room
Expansiveness, powder snow and refreshment stops with a Champagne feeling. Wellness voucher included!
Bid farewell to winter with a lifestyle that does the STOCK feeling justice: spa moments which have a sparkling factor, healthy natural adventures, skiing fun, 'Hüttenzauber' and ebullient moments of joie de vivre with MOUNT STOCK. Let the sun shine!
5 NIGHTS WITH:
1 SPA voucher to the value of € 40 per person in the STOCK DIAMOND SPA

Daily health program with our personal trainers (Aqua-fit, Zumba, supervised sessions in the fitness studio, guided relaxation sessions, snow-shoe hikes and much more).

1 bottle of MOUNT STOCK Secco Rosé to welcome you in your room
Always included:
Stock's luxury board
 and all services in the 
STOCK Feeling worlds
The prices listed in the overview are "from" prices. The room price is calculated according to the season. The valid price for the corresponding season can be found in the package offer after entering your desired dates.
(Voucher redeemable between 8.30 a.m. – 2.00 p.m. in the STOCK DIAMOND SPA.  Not changeable or redeemable in cash!)
The services included in the package are not exchangeable and there is no cash alternative!Prices given apply to an optimal occupancy of 2 adults in a double room.Treatments in our beauty department can be booked daily between 8:30 a.m. and 2 p.m.Extension of stay also possible.
Send us an enquiry or call our booking holine: +43 (0) 5285 6775-410.