WELLNESS AND INDULGENCE IN NOVEMBER
Sorry ...
... but this offer is currently not bookable.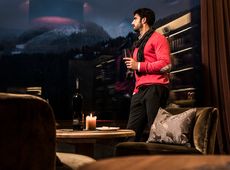 Make November the best month of the year! With the STOCK feeling.
Wellness voucher and wine tasting included!
It's autumn – and thus time for wellness, wine & premium gastronomy in STOCK resort. Truly arrive. Fully let go. And feel the steady pulse of nature in autumn.
3 NIGHTS WITH
daily vitality programme with our support team
5,000 sqm large wellness world with 11 saunas and 12 pools
daily varying sauna pourings and inunctions
one wine tasting
one wellness voucher worth € 20.00 per person, redeemable in the STOCK DIAMOND SPA
(Voucher redeemable daily from 8:30 – 14:00 in STOCK DIAMOND SPA. Cannot be changed or redeemed for cash!) Always included: Stock's 
Wellness comfort board
 and all services from the 
STOCK Feeling Worlds
Possible arrival date:
Monday, Tuesday, Sunday
The services included in the package are not exchangeable and there is no cash alternative!Prices given apply to an optimal occupancy of 2 adults in a double room.Treatments in our beauty department can be booked daily between 8:30 a.m. and 2 p.m.Extension of stay also possible.
Send us an enquiry or call our booking holine: +43 (0) 5285 6775-410.