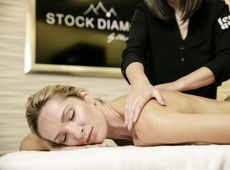 3

nights

from € 963,-

 price per person
Penken 'Comfort' double room
Enjoy the feeling of being as radiant and precious as a diamond.
Beauty. Relaxation. Feel-good time and modern luxury: experience how valuable a break in the STOCK resort can be. With a five-star spa oasis and a choice of three individual treatments for your senses.

 Three nights stay, including:
A choice of three treatments (massage, beauty and bath) Select one massage / exfoliation scrub (25 mins) each:
Back massage           
Feel-good head and neck massage
STOCK Diamond Mountain Crystal scrub
Select one beauty programme each
'Pure Impact' Stock Diamond Facial
Manicure and pedicure without varnish
Select one bath each
Stock Diamond Mountain Crystal Bath
Stock Diamond Alkaline Bath
Swiss Stone Pine Bath
Romantic Imperial Bath for two people (if two people book the package)
Always included:
Stock's luxury board
 and all services in the 
STOCK Feeling worlds
(Treatments cannot be changed.)
The services included in the package are not exchangeable and there is no cash alternative!Prices given apply to an optimal occupancy of 2 adults in a double room.Treatments in our beauty department can be booked daily between 8:30 a.m. and 2 p.m.Extension of stay also possible.
Send us an enquiry or call our booking holine: +43 (0) 5285 6775-410.