STOCK'S WINTER WELLNESS TIME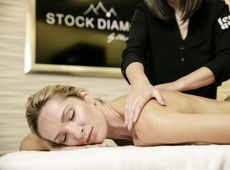 3

nights

from € 963,-

 price per person
Enjoy the feeling of being as radiant and precious as a diamond. 3 treatments included!
Beauty. Relaxation. Feel-good time and modern luxury: experience how valuable a break in the STOCK resort can be. With a five-star spa oasis and a choice of three individual treatments for your senses.
Three nights stay, including:
A choice of three treatments (massage, beauty and bath)

Select one massage / exfoliation scrub (25 mins) each:
Back massage           
Feel-good head and neck massage
STOCK Diamond Mountain Crystal scrub
Select one beauty programme each
'Pure Impact' Stock Diamond Facial
Manicure and pedicure without varnish
Balance Alpine 1000+ "Vitality"
Select one bath each
Stock Diamond Mountain Crystal Bath
Stock Diamond Alkaline Bath
Romantic Imperial Bath for two people (if two people book the package)
Always included:
Stock's luxury board
 and all services in the 
STOCK Feeling worlds
(Treatments cannot be changed and used in the following periods: 20.12.-6.1.2020 / 23.02.-01.03.2020)
The services included in the package are not exchangeable and there is no cash alternative!Prices given apply to an optimal occupancy of 2 adults in a double room.Treatments in our beauty department can be booked daily between 8:30 a.m. and 2 p.m.Extension of stay also possible.
Send us an enquiry or call our booking holine: +43 (0) 5285 6775-410.